Event Date: February 19, 2021
Event Time: 7:30pm - 8:30pm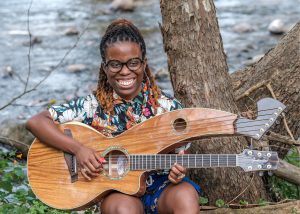 Join us for a virtual benefit concert with acoustic fingerstyle guitarist Yasmin Williams. With a compositional style that's relaxing as well as inventive, Yasmin specializes in lap tapping, a technique that involves playing the guitar with both hands over the fretboard as it rests face-up on the player's lap.
Incorporating tapped harmonics, bowing, percussive strikes, alternative tunings, and even tap shoes into her sound, she landed on the Billboard Heatseekers chart with her debut album, 2018's Unwind. She has also been featured on NPR and has performed at prestigious venues such as the Millennium Stage at the Kennedy Center. Her second album, Urban Driftwood, will be released on January 29th, 2021.
TICKET OPTIONS:
Concert Only – $30: Includes one ticket for the benefit concert with Yasmin Williams.
Acoustic Sponsor – $150: Includes public recognition, and a cheese plate and bottle of wine from Cheesetique delivered ahead of the concert. Registration for this ticket option is CLOSED. (tax deductible value $75)
Virtuoso sponsor – $250: Includes the benefits for the Acoustic Sponsorship and autographed CDs of Unwind and Urban Driftwood from Yasmin Williams. Registration for this ticket option is CLOSED. (tax deductible value $150)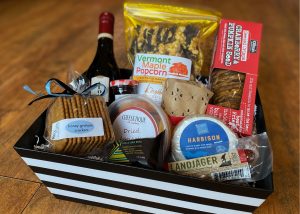 Take a tour around the world with a collection of artisan cheeses, charcuterie and accompaniments,
all perfectly paired with a bottle of winter-friendly wine. Your collection is lovingly curated by the cheese
and wine professionals at Cheesetique, a long-time Alexandria local business.
*Actual wine and cheese basket contents may vary, depending on availability

THANK YOU TO OUR SPONSORS!