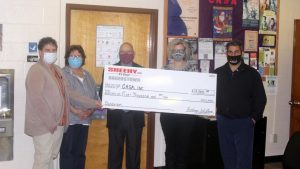 AUTO REMARKETING STAFF, Auto Remarketing; January 13, 2021
FAIRFAX, Va. –
With its president saying that people have experienced extreme challenges over the past year, Sheehy Auto Stores is donating $115,500 among 22 charities throughout the communities they serve in several locations.
Those areas include Washington, D.C.; Baltimore and Hagerstown, Md., and Richmond, Va.
The donations are part of Sheehy's Annual Giving Program. Through that program, each dealership partners with local non-profit organizations.
"We are fortunate to be able to provide some help through our annual end of the year giving campaign that supports a variety of causes." Sheehy Auto Stores president Vince Sheehy said in a news release.
Through the program, Sheehy donated $45,500 to Washington, D.C. area charities, including:
—$13,000 to Good Shepherd Housing and Family Services
—$7,000 apiece to Women Who Care Ministries and Ecumenical Community Helping Others
—$6,000 to Fauquier F.I.S.H.
—$2,500 apiece to Arch of Knowledge, the. St. Lucy Project/Catholic Charities of the Diocese of Arlington, Inova Children's Hospital, Loudoun Hunger Relief and Food for Others
The program also resulted in donations to non-profit organizations in Baltimore, including:
—$23,000 for the Naval Academy Athletic Association
—$5,000 for Center for Children
—$3,000 for STAIR-Annapolis
—$2,500 for Arundel House of Hope
—$1,500 for Mosaic Community Services
—$1,000 for Chesapeake Gateway Chamber of Commerce
In Hagerstown, Md., Sheehy donated $5,000 to CASA. And in the Richmond, Va. market, the program distributed 20,000 to Mercy Mall of Virginia and $9,000 to ACES.
For more information, check out the article on the Auto Remarketing website.