Event Date: June 4, 2021
Event Time: 6:00pm - 9:00pm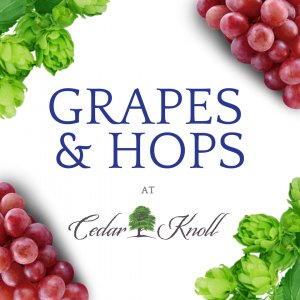 WINE, BEER, FOOD, AND A VIEW AT THE BEAUTIFUL CEDAR KNOLL IN ALEXANDRIA
This year, we are happy to offer IN-PERSON and VIRTUAL tickets!
In-person guests will enjoy drinks and hors d'oeuvres while taking in waterfront views of the mighty Potomac from the restaurant, which is situated on property once owned by our first president. The patio and lawn areas will be open to encourage social distancing. Attendees are welcome to bring picnic blankets and/or chairs to enjoy the evening outside!
Virtual guests will pick up a 'take-out' package* of hors d'oeuvres, and their choice of either wine (three 2.5oz wine pours in mini bottles), or beer (three beers). *Virtual guests will pick up their food/drinks package on the afternoon of the event. Pick up details to follow.
Friday, June 4, 2021
6:00pm – 9:00pm
Cedar Knoll, 9030 Lucia Lane, Alexandria VA 22308
Your participation in our Grapes & Hops event will help transform the lives of families on the brink of homelessness, or keep a struggling neighbor in housing with our emergency assistance, or give a school child living in our housing an enriching academic experience.