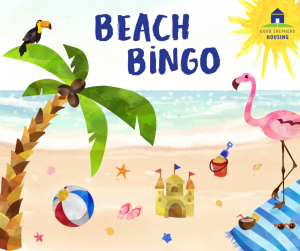 Our Beach Bingo night will feature a pasta dinner with refreshments (beer and wine will also be available for purchase), plenty of prizes and an silent auction!
Proceeds from the event will go to assist our various programs, including our Apartments Budgeting Counseling, Emergency Services and Children's Resources programs.
Returning in 2022!
Saturday, March 12, 2022
5 P.M. – 8 P.M.

Mount Vernon Unitarian Church
1909 Windmill Ln, Alexandria, Virginia
General Admission – $20
For adults and children 11+: Buffet dinner and 6 bingo cards
Child Registration – $10
For children 5-10: Buffet dinner and 6 bingo cards
Free admission for children 4 and under (includes buffet dinner, but does not include bingo cards)
Daubers, additional bingo cards, and beer/wine will be sold separately.
Interested in volunteering? Sign up HERE!
THANK YOU TO OUR 2020 SPONSORS!