For Immediate Release: Tuesday, August 3, 2021
Good Shepherd Housing Press Contact: Candice Bennett, cbennett@goodhousing.org, 703-559-1744
Schroeder Design/Build Inc. Donates More Than 4,000 Books and 100 Backpacks to Good Shepherd Housing
Alexandria, Virginia — As part of their 35th anniversary's philanthropic campaign, the employees of Schroeder Design/Build Inc. (Schroeder) donated 4,786 children's books and 118 backpacks to the Good Shepherd Housing and Family Services (GSH) Children's Resources program in Alexandria, Va.
The GSH Children's Resources program is a vital resource in the community. The program helps ensure that children in GSH housing programs do not miss out on critical after-school and extracurricular enrichment activities simply because their families are on a tight budget. This long-standing program provides children with school supplies, access to summer camps, music lessons, and field trips.
Schroeder Design/Build's donation will ensure that more than 100 children in the community will start school with a backpack. The backpacks will be handed out during the first half of August. Each child will be able to select their own backpack and then take home a bag filled with all of the supplies on their 2021-2022 school supply list.
During school supply and backpack pick up, the children and their parents will be able to choose several donated books to take home as well. Having books to call their own can be a luxury for children living in low-income households where budgets are tight and other necessities usually take a higher priority. Yet, books are critical to children's emotional and academic development.
The books will also help fill the free little library GSH has started in Colchester Towne, a local condominium community where GSH has a majority of its rental units. The little free library has already proven popular since it was installed earlier this year.
"Through our Children's Resources program, we give our families the extra support they need to ensure their children have a bright future," said David Levine, President and CEO of GSH. "This generous donation from Schroeder Design/Build will make a huge impact for our families."
Established in 1986 and based in Fairfax, Va., Schroeder Design/Build provides clients throughout the region with comprehensive design and construction services for remodeling, tear down and rebuilds, and new home construction. As part of its 35th anniversary celebration, Schroeder Design/Build has launched a "35 Acts of Kindness" campaign to honor the spirit of the anniversary and give back to the community who supported the company throughout the years.
"Our team members really got into the spirit, and every single person at our company donated to this challenge to raise books and backpacks. We also received numerous donations from our clients and members of our community," said Mark Gill, General Manager of Schroeder Design/Build. "It was a true team effort and we're very pleased that the children of Good Shepherd communities will benefit."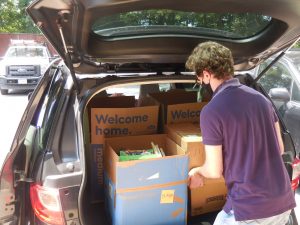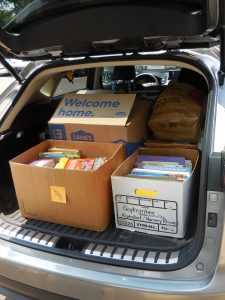 About Good Shepherd Housing and Family Services
Since 1974, GSH has been reducing homelessness and enabling self-sufficiency by providing permanent affordable housing, emergency financial services, budget counseling and case management to working-class families in Fairfax County. Earning numerous accolades for their work, GSH received the 2013 Washington Post Award for Excellence in Nonprofit Management, and was named one of the best nonprofits by the 2014-2015 Greater Washington Catalogue for Philanthropy.
For more information, please visit www.goodhousing.org.
About Schroeder Design/Build
Schroeder Design/Build, Inc. is a family owned and operated remodeling firm located in Fairfax, Virginia. Since 1986, the company has been providing clients throughout Northern Virginia with comprehensive design and construction services for remodeling, tear down and rebuilds, and new home construction. They also purchase homes through their Real Estate division.
For more information, please visit www.schroederdesignbuild.com.