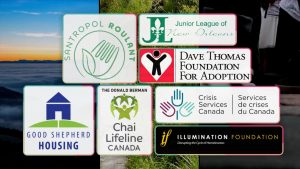 EZVID WIKI EDITORIAL, Wiki.ezvid.com; December 11, 2020
North America is home to millions of people, some of whom are able to prosper without much difficulty, and some who are less fortunate. Due to a variety of factors, many individuals have trouble acquiring the basic necessities of life. Listed in no particular order, the following are some compassionate organizations that exist to help those who are less fortunate with food, shelter, education, and support.
Beginning the list at #1, the Junior League of New Orleans is committed to promoting voluntarism, developing the potential of women, and improving communities through effective action and leadership. The group specifically works to tackle three strategic goals: improving economic opportunities for females, providing needed family support, and promoting information and resources for health and well-being.
JLNO was started in 1923 with ten local women who were passionate about improving the New Orleans metro area, and is now comprised of over 2,000 members. The projects, programs, and partnerships that are offered through the membership are meant to help females become more confident, productive, and knowledgeable, so that they can enter the workforce and acquire higher levels of income.
Up next, Crisis Services Canada takes the #2 spot. This national network of distress and suicide prevention services is dedicated to supporting any person living in Canada who is affected by suicide. Its highly trained responders leverage the country's unique culture, attitudes, and values to provide an inclusive network of support from coast to coast.
C.S.C. is devoted to respecting cultural and social differences, and believes that every human being deserves the opportunity to express themselves, free of judgment. To access free support, anyone in Canada is able to reach out via telephone, text, or online chat to speak to a qualified and compassionate professional.
#3 on the list is Illumination Foundation, which works to provide targeted, interdisciplinary services to Southern California's homeless population. This organization seeks to disrupt the cycle of homelessness in the region by helping vulnerable people attain lasting stability. The group's Street2Home initiative helps individuals find success through close mentoring, and by teaching its program participants the skills needed to be employable.
At Illumination Foundation, every individual is assessed to identify specific needs, with immediate relief provided when necessary. Its personalized care system combines housing, case management, medical support, mental health, and workforce services to increase community stability. This group also puts a focus on keeping families together, and helps those with chronic health conditions access medical care and wellness management.
Moving on to #4, Santropol Roulant is a Montreal-based community hub that grows, prepares, and delivers food. In doing so, this organization aims to create a continuum of engaging services that helps build a stronger social fabric, while increasing food security and social inclusion in the city.
While the Roulant welcomes people of all generations and walks of life, its activities and programs benefit two groups of people in particular: young Montreal residents, and those living with a loss of autonomy. To help make good food more accessible, the group has chosen to grow and purchase organic produce, and to offer sliding scale pricing for many of its activities, products, and practices. For example, a meals-on-wheels program gives clients with limited mobility access to healthy, organic, freshly prepared meals at an affordable price.
Good Shepherd Housing, which is #5 on the list, has served the needs of Northern Virginia families and individuals for more than 40 years. The organization's mission is to reduce homelessness, increase community support, and promote self-sufficiency among working families, senior citizens, and residents with disabilities. It carries out this mission through emergency services, children's resources, and more.
GSH's Apartments Budgeting Counseling program helps low-income families and individuals by providing affordable, stable housing and individualized case management. Participants can also access counseling to help clean up bad credit history, learn new money management skills, and gain the financial independence necessary to achieve economic self-sufficiency.
At #6, Chai Lifeline Canada is a nonprofit dedicated to helping children and families affected by life-threatening or terminal illness. Since its inception in 2006, this organization has raised over 10 million dollars and provided support to thousands of people. The group provides critical care services and compassion to ensure that the most vulnerable are cared for during their health journeys.
This charity offers a myriad of free programs and services, such as counseling for each member of the family, tutoring for children who miss school for extended periods of time, group retreats, special sibling activities, peer and professional support, and summer camps. These offerings are meant to help families retain a sense of normalcy and hope while fighting even the direst pediatric diseases.
The Dave Thomas Foundation for Adoption ends the list in the #7 spot. A public nonprofit, its mission is to dramatically increase the number of permanent adoptions for children waiting in North America's foster care systems. Through its signature program, Wendy's Wonderful Kids, the Foundation provides grants to hire recruiters who employ an evidence-based, child-focused model to find loving, permanent homes for kids waiting in foster care.
The Foundation works closely with child welfare advocates and policymakers, provides free resources, and raises awareness through social media campaigns, public service announcements, and events. It began in 1990 when Dave Thomas, founder of Wendy's fast-food restaurants, accepted President George H.W. Bush's invitation to be the spokesperson for a national adoption awareness campaign. After realizing he could do more, in 1992, Thomas established the Foundation to further his goal of finding forever families for North American foster children.
For more information, check out the article on their website.