Old Town Alexandria's Butterfly Effect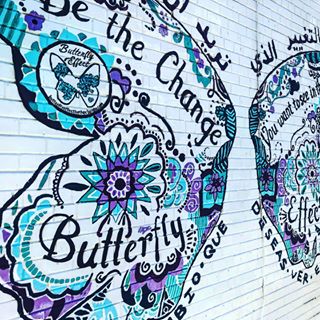 The butterfly mural on the wall at the corner of King and Patrick Streets in Old Town is more than just a pretty picture. The mural is part of a fun, interactive fundraising initiative by Alexandria's Vice Mayor Elizabeth Bennett-Parker funded by Tasha Wall, founder of the Butterfly Effect, and ACT for Alexandria.
The global public art and philanthropy project combines Mahatma Gandhi's popular concept, "Be the change you want to see in the world" with Edward Lorenz's "Butterfly Effect" theory that even the softest flutter of a wing can affect the molecules around it, setting off a chain reaction that produces major change.
Visitors are encouraged to take a photo at the mural and select their favorite charity from a list of over 200 local and national organizations (including Good Shepherd Housing!) to receive a donation, the idea being, of course, that a small act of generosity has the potential to effect a massive positive impact.
Visitors can secure a donation to charity through the following steps:
    Head to the mural at Bloomer's at 924 King Street – it is on the side facing Patrick Street and take your picture with the butterfly wings. Feel free to get creative!
    Pick a charity from the list at: www.bit.ly/alxbutterflyeffect.
    Email the picture to alxbutterflyeffect@gmail.comwith the name of your charity in the subject line. Alternatively, you can text 202-681-7594 with the picture and name of your charity.
    For a chance to win an extra $500 donation, post your photo on social media and tag @elizabethforalx and include the hashtags: #inclusiveALX and #butterflyeffect and your charity of choice.
    The charity with the most people choosing it will also receive an extra $500 donation.
Candice and Tamsin from the GSH Development Team visited the mural this week to do their part in promoting this great initiative!