Emergency Services Program
GSH provides grants up to $35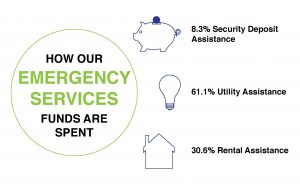 0 per family in the period of a year to prevent evictions and utility disconnections, or help with first month's rents and security deposits. Grant applicants are carefully evaluated for factors that lead to long-term housing stability, helping us keep households at risk of homelessness from losing their home.
Eligible clients must live within the following zip codes: 22303, 22306, 22307, 22308, 22309, 22310, 22315, 22060, and 22079.
Contact Jessica Seckman at 1-703-768-9404 or via e-mail:
jseckman(at)goodhousing.org to apply for assistance.
Assistance is limited to once every 12 months.