by David Levine, President & CEO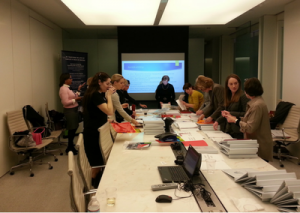 For many years, GSH has been one of the three grantees of the Women in Housing and Finance Foundation (WHFF).
For the last fifteen years, as the philanthropic arm of the Women in Housing and Finance organization, the WHFF has provided charitable services and education to the Metro DC community in the areas of housing and finance. (For example, the WHFF has developed and sponsored an 8-week financial literacy course for the DC-based Calvary Women's Services, a transitional housing program for women. We are impressed by the materials used in the course and may even look to use them with our own residents).
This past Tuesday, we sponsored an event with the WHFF at the offices of K&L Gates, a law firm based in DC. That evening, nine WHFF members joined us in putting together "welcome buckets" (mainly household cleaning supplies) and budget packets for our new residents.
Together with Jen Stephens, one of our board members, we had the opportunity to present GSH and our mission to these housing and finance professionals who knew little about us. More than that, they were engaged in an activity that truly connected them to our residents. Each of the WHFF members, too, had a chance to write a note to a resident.
As I told the WHFF group, their efforts producing welcome buckets and budgets really touched on both "housing and finance" — the two areas in which GSH has a mission.