by Lesley Hatch, Vice President & CFO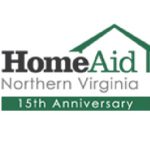 A big thank you to HomeAid and Richmond American Homes for the beautiful work at one of our Hagel Circle units. The kitchen that was only wide enough for one person to walk in and the dining room that was just big enough for a table have been combined into one beautiful kitchen-dining area. The space with all new cabinets, appliances, counter tops and flooring will provide a bright and cheerful place for the family to cook and gather. Mom can now be in the kitchen and have a clear line of sight to the kids in the other areas of the first floor. The two renovated bathrooms are beautiful as well, and the new closet doors will make day-to-day life that much easier.

And the beauty goes even deeper. The plumber was able to replace very old pipes that were just about ready to "go".
This project is significant to the family who lives there and to Good Shepherd Housing. Good Shepherd Housing is dedicated to offering well-maintained, affordable housing. This project has allowed us to renovate an older unit with very little expense on our part – which speaks to both goals of well-maintained and affordable. For the family, the benefit may seem cosmetic, but it is much more than that. The renovation speaks to our value of them as people, that they are worthy of a good home. We hope that this provides encouragement as they work toward their goals.
The "Before" and "After" Photos!
[Not a valid template]