Housing Access For People With Disabilities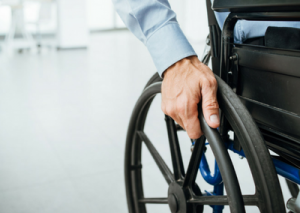 One of the greatest needs in affordable housing is enough units that meet the needs of people with disabilities. Studies repeatedly show that people who live under the poverty line are more likely to be disabled than the general population. Even if they can work, and actively want to work, they struggle harder to find jobs than the fully abled. And so they face a double-whammy – a lack of work, and also, a lack of housing that meets their financial and health needs.
According to the Disability Compendium, a database from the Institute of Disability, 28 percent of working-age Americans with disabilities lived below the poverty rate in 2014, nationwide. For those without disabilities, the poverty rate was less then half that, 13 percent.
This doesn't include school children living in poverty, aged 5 to 17, almost 33 percent of whom were disabled, compared to 20 percent of those not disabled. Or seniors age 65 and older — 13 percent of those living in poverty compared to 7.5 percent of the able-bodied population.
Depending on how income is tallied, as many as half of all disabled Americans can be counted as living in poverty, according to Demos.org. Or, as NPR news puts it, "If you have a disability in the U.S., you're twice as likely to be poor as someone without a disability. You're also far more likely to be unemployed."
"Any person who has a physical or mental impairment that substantially limits one or more major life activities; has a record of such impairment; or is regarded as having such an impairment," is considered disabled, notes the Department of Housing and Urban Development. People who meet that criteria fall under the Americans with Disabilities Act, which offers them additional protection, including building and accessibility requirements.
Multifamily buildings constructed before 1991 were grandfathered. If there's no elevator, for example, the ground-floor apartments have to comply with fair housing rules. But the law only requires "reasonable" accommodations that don't pose an undue financial burden on the real estate owner. That means a wheelchair-bound resident could request, and likely receive, a designated parking spot if that simply entails repainting some parking lot lines. Bars in a shower might pass muster. But overhauling an elevator or installing automatic doors in a building entryway may prove prohibitively expensive.
It doesn't take looking far afield to find an example of how this impacts local housing. According to the information office at HUD, the Alexandria Redevelopment and Housing Authority has six apartments that meet the guidelines of the Americans with Disabilities Act — out of 823 public housing units, according to the local housing authority.
This isn't to point fingers at the ARHA. There are major problems with a lack of funding for purchasing new units, a lack of available real estate, the high expenses involved in retrofitting units, and the logistics of hiring qualified firms to make those fixes, all of which lie outside the control of the housing authority. But it does speak to the desperate need in our communities for housing that meets the needs of so many people struggling to afford a place to live — on top of juggling their infirmities.