Larger Families Losing Out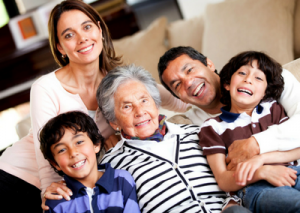 In earlier updates, we have talked about the gap in the amount of housing available versus the current demand. This gap is even wider for larger families, whether it's a family with more than two children or a family that may be caring for an elderly relative. While it wasn't uncommon not too long ago to find garden-style apartments in the area with three and four bedrooms, today, they are becoming scarce.
Another factor in the profit model for developers is the need to produce smaller units so they can create more units in the space they have available. That unfortunately has meant that larger families not only face affordability hurdles, but the size of apartments they need to accommodate a slightly larger family, simply are not being developed. This recent article in the Washington Post highlights the loss of these units. In fact, in one community, all of its four-bedroom units will disappear in the redevelopment.
"Brookland Manor today has 134 four- and five-bedroom apartments. Yet when the new community is built, none of its 1,646 apartments or 114 for-sale townhouses will have more than three bedrooms, and a vast majority will have only one or two." – Paul Duggan, Washington Post
We are facing a similar issue today. GSH only has one four-bedroom unit in our inventory and it houses a family of six. We have a building contractor coming in in the next month or two to do a significant renovation on this unit as part of a community service project. Unfortunately, we have been struggling to find a unit where we can house this family during the construction, as there will be several points during the renovation where the contractor will have to shut off water to the unit. However, finding a similar-sized unit or even an extended stay hotel to house our family, is proving to be near impossible.
There is no perfect solution, but understanding that many families today do not look like the traditional "nuclear" family, of two parents and two children, flexibility in housing sizes must be kept in mind as new housing developments and redevelopments are planned.