Preparing for Emergencies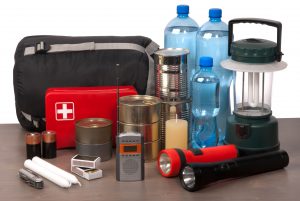 Emergencies, such as damaging acts of nature or community catastrophes, can cause hardship for everyone. But those who live near or below the poverty line, who have even fewer resources, can find their problems compounded during such events.
"Research shows that the most vulnerable residents in a community (e.g., low-wealth individuals, children, the elderly, people with disabilities, and non-English speaking individuals), often suffer disproportionately during disasters, as they tend to be concentrated in higher-risk areas and in housing that is less able to protect them from extreme forces," wrote John Cooper, a program developer for a North Carolina non-profit who was a research fellow at the University of North Carolina Chapel Hill.
If it took a month's worth of minimum wage earnings to furnish an apartment from a thrift store, imagine how hard it is to recover should a flood wipe out all that furniture — plus clothing, school supplies, and perishables in the kitchen. There's also the time, effort and money involved in finding a new place to live.
Imagine a scenario such as Hurricane Sandy or Hurricane Katrina, where shops closed and public transit halted. People with cars could flee the city. People without cars, who depended on public means of getting around, had less access to stocked stores and other services.
A research review published in the journal Natural Hazards found that poor families were more likely to feel like they lacked control over their environment, and therefore not prepare for disasters. They were also less likely to hear community broadcasts or communication about a disaster, due to issues such as a language barrier or lack of access to communication technology. And they were more likely to avoid life-saving measures because they couldn't afford them.
In one Midwestern heat wave that took more than 140 lives, the authors note, "many of the victims, poor and on fixed incomes, were afraid of high utility bills so they did not turn on fans, many of which had been given to them for free as part of emergency relief measures."
Create a Kit
Emergency preparedness kits can help.
And they may be even more vital for low-income families then those who earn above the poverty line, simply because people who can't afford to just throw money at a crisis are more at risk for major life setbacks.
The American Red Cross list for an emergency kit suggests including an extra cell phone battery, a week's worth of medication, extra baby formula, extra glasses – all of which can be vital in a storm, but also expensive.
An article in the trade magazine Emergency Management offers some examples of how to create an emergency preparedness kit on a budget.
Suggestions include stockpiling canned goods when they're on sale, and saving 2-liter soda bottles to fill from the tap if a storm warning comes.
Additionally, dollar stores sell flashlights and batteries. A few extra clothes can fit on a shopping bag on a high shelf.
Of course, these things still take money to figure out. Parents that rely on free school lunches in order to feed their children may struggle with putting away a few cans of food, or finding extra clothing.
For those who don't speak English well or don't have reliable Internet access, finding resources can be daunting. It just takes time, not money, to figure out an evacuation route and a meeting point, or to write down a list of emergency phone numbers, such as numbers for the local Red Cross. But residents have to find them.
At Good Shepherd Housing, we're working on creating kits with the families we serve, to make sure they're prepared should a disaster strike. Our work helps more than 1,000 families have a safe place to live and gain some financial footing. We don't want to see that taken away by an act of nature.
To help out, learn more here.
Emergency Preparedness Kits
September is National Preparedness Month!
Emergencies, such as damaging acts of nature or community catastrophes, can cause hardship for everyone. But those who live near or below the poverty line, who have even fewer resources, can find their problems compounded during such events. And GSH employees are not always able to reach our families during a local emergency, so we are helping them prepare with emergency kits they can store in their home.
Backpack for the kit
First-aid kit
Battery-powered or hand crank radio or a NOAA Weather radio
Flashlight and extra batteries
Whistle to signal for help
Duct tape
Local maps
Fire extinguisher
Matches in a waterproof container
First aid kits will include:
adhesive bandages
antibiotic towelettes to disinfect
Antibiotic ointment
Burn ointment
Thermometer
Tweezers
Scissors
Aspirin or non-aspirin pain reliever
Anti-diarrhea medication
Antacid
Please shop our Amazon wish list to have the order directly shipped to GSH OR purchase items at a local retail, and drop off new donations to Betsy at 8305 Richmond Hwy., Ste. 17B, located in the Mt. Zephyr Business Complex.