Healthcare Costs and Housing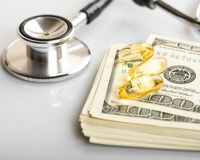 by David Levine, President/CEO
This week we helped two families through our Emergency Services financial assistance program.  Both families had large medical expenses not covered by their health insurance.
For one family, a single mother and her 12-year-old son, the housing-related crisis came up when the mother developed a case of Lupus.  A medical office administrator at George Washington University hospital, the mother saw her medical expenses escalate until it became a choice between paying a $5,000 medical bill or rent.
GSH was able to step in and keep the family in its housing.  For this family with household income at around 53 percent of the area median income, unexpected medical expenses meant choices had to be made among its expenses.  Which bill gets paid first from the family's limited monthly income?
Fortunately, the mother is back at full-time work and the family is moving ahead because of GSH.
In this February 2016 article produced by the Kaiser Family Foundation, the authors show that non-Medicaid-insured low-income households spend about 6 percent of their monthly income on medical care.  (This includes expenditures on premiums and out-of-pocket costs for prescriptions, medical services and supplies).
It also points to the "crowding out" effect of large medical expenses.  Comparing Medicaid- and non-Medicaid-insured low-income households — where Medicaid will largely cover most, but not all, medical expenses — the authors demonstrated the impact of medical expenses on the share of income going to rent, food and transportation.
For example, the Medicaid-insured low-income household will spend 44 percent of its limited income on rental costs.  Instead, the non-Medicaid-insured low-income household will spend only 37 percent of its income on rent.
When unexpected and often catastrophic medical expenses occur, families have fewer degrees of freedom.  They have less flexibility in meeting their expenses.