by David Levine, President/CEO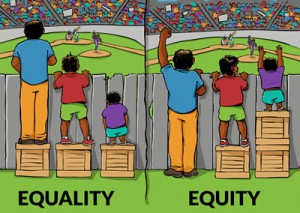 This week the Board of Supervisors adopted the "One Fairfax" Resolution, which you can find here.  At a micro-level, the Resolution does offer an intentional policy to ensure that all county residents reach their highest level of personal achievement.  At a macro-level, the Resolution links that personal achievement to the county's economic growth and competitiveness in the global marketplace.
As the County's Economic Strategic Plan (adopted in 2015) has made clear, "equity is a driver of the county's economic growth."  Further to the Strategic Plan, its Goal Five clearly recognizes that affordable housing is key to economic success. With various housing options, and with the whole spectrum of housing types, densities, and prices, everyone will be able to participate in, and benefit from, economic growth.
The "One Fairfax" Resolution is very forward-looking and insightful.  It draws the connections between the individual and economic growth.  More to the point, it confirms that the condition of the individual resident will truly determine the path of economic growth for the county.  All that is well said in the Resolution.