Domestic Violence Victims Faced with an Impossible Choice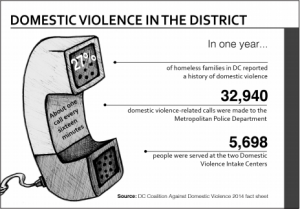 Local activists push for more resources to be dedicated to the 27 percent of D.C.'s homeless population that has experienced domestic violence. See how GSH fits into the complex issues related to domestic violence and affordable housing. Our client Tenickia Polk recounts how she struggled with the housing reality after being in an abusive relationship. Read the full story here.
About Good Shepherd Housing and Family Services
Since 1974, GSH has been reducing homelessness and enabling self-sufficiency by providing permanent affordable housing, emergency financial services, budget counseling and case management to working-class families in Fairfax County. Earning numerous accolades for their work, GSH received the 2013 Washington Post Award for Excellence in Nonprofit Management, and was named one of the best nonprofits by the 2014-2015 Greater Washington Catalogue for Philanthropy.
Source: Street Sense