Predicting Gentrification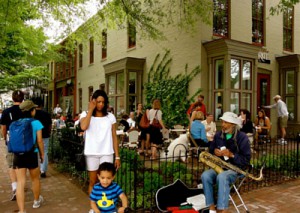 by David Levine, President/CEO
GSH has been a long-standing member of the Housing Association of Nonprofit Developers (HAND), a regional consortium of nonprofit and private affordable housing developers.  Its "Matters@HAND" blog is definitely a go-to site for innovative articles on affordable housing trends.
One of its recent articles looks at the factors predicting gentrification.  As the article notes, while no one has a solid definition of gentrification, it is generally associated with higher-income households moving into lower-income neighborhoods.
The downside effects of this movement might well be rising housing prices, rising rents, and the displacement of the low-income renters out of these gentrifying neighborhoods.  It also tends to fracture neighborhoods, many of which have had long histories of family stability, strong bonds and support.
Alternatively, positive and upside effects also go hand-in-hand with gentrification.  For example, the rising income levels in an erstwhile poor neighborhood will mean better public services, schools, and stabilized property values. In all, gentrification has had a mixed impact — some positive and some negative effects.
As the article notes, Washington, DC has seen more than half its neighborhoods become gentrified between 2000 and 2010.  That's a significant amount of gentrification, placing DC in the top four metropolitan areas in the country for the extent of gentrification within its boundaries.
This is not entirely without costs.  The article further notes: "…when gentrification – which can happen very quickly – evolves it can be even harder for local governments and advocates to act and help ensure neighborhood change benefits those already living in the community as well as new residents."
That is a sound goal.  Building neighborhoods should not be about excluding low-income households.  It is always worth seeking a common ground, an accommodation, where both well-off and less-well-off households can live together.