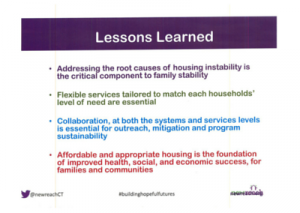 by David Levine, President/CEO
The Institute for Children, Poverty and Homelessness is a leading think tank on the issues of family homelessness and poverty.  Their 2016 conference featured presentations on producing better socio-economic outcomes and futures for homeless families.  You can access all the presentations from the conference here.
One presentation by New Reach, a homeless services agency based in Bridgeport, Connecticut, truly stood out for us.  Like GSH, New Reach provides affordable housing, support services, and homeless prevention services.  (With 85 housing units, New Reach even has about the same amount of housing as ourselves).
Their focus is to "provide support case management to build sustainable housing stability."  That is also true of our case management services.  As with our goal of moving our residents to self-sufficiency — hopefully within two years — we know that the long-term financial condition of our families will determine their housing stability.
But more than that, housing stability is key for family stability.  So many positive outcomes follow from long-term and stable housing.  By addressing that one need, that basic human need for housing, we have an impact way beyond what we can imagine.
New Reach summarized it best in its "Lessons Learned" page (attached):  "Addressing the root causes of housing instability is the critical component to family stability." 
Their words sound very familiar to us.