Ventures in Community Sendoff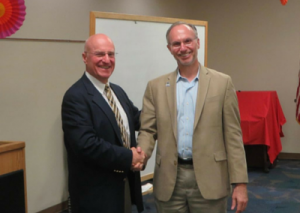 by David Levine, President/CEO
This week marked the end of my appointment as one of the two co-conveners of Ventures in Community (VIC). (The other is Keith Davey, President of the Mount Vernon Stake, The Church of Jesus Christ of Latter-day Saints).
For over forty years, VIC has been a collaborative association of faith-based organizations, human service providers, community-service organizations and Fairfax County governmental agencies.  As a locally based association, VIC fosters greater unity and impact through its collective response to human service needs in Mount Vernon.
For more information, please visit the newly launched VIC website here.  On there, too, you can see the photos from the VIC annual meeting (my last as co-convener).
I look forward to participating with the VIC steering committee starting in the fall. VIC is a mighty community asset.