Our May Financial Mentoring Workshop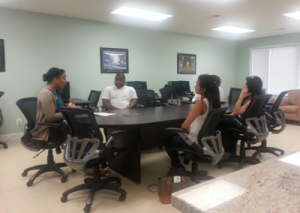 by David Levine, President/CEO
This past Wednesday evening we helped sponsor another financial mentoring workshop.  Working with M&T Bank, as well as our two local provider partners, Lorton Community Action Council and UCM, we had a very informative session focused on budgeting and banking.
Led by Ms. Mindi Schools, the M&T Bank branch manager based in Old Town, the workshop provided our participants with another view into bank products.  We all learned about the dangers of overspending and over-extending on too much debt.
Mindi provided several cautionary lessons on poor money management.  You can see her at the head of the table talking with the participants.
We hope to continue with the workshops through the upcoming year.  They are becoming a very useful resource for our clients.