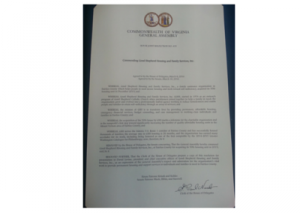 by David Levine, President/CEO
The Virginia General Assembly passed a resolution in March commending GSH for purchasing its 50th housing unit (as of last week, that has increased to 52 units).  The resolution also noted the array of services that we provide to our struggling clients, including emergency financial assistance and budget counseling.
It goes on to say our 50th housing unit is a "milestone" for GSH in its efforts to increase "quality affordable housing" in the Mount Vernon area.  All of it is very nicely worded, as you can see from the attached photo of the resolution.
I want to thank our own Delegate Paul Krizek for championing the resolution for us in the House of Delegates.  Also, thanks to our Senate patrons, Senators Black, Surovell and Ebbin and to our other House patron, Delegate Sickles.