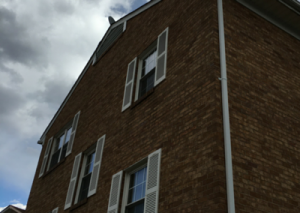 by David Levine, President/CEO
GSH has only one larger-sized housing unit, a four-bedroom townhome, in its inventory of 50 owned properties. (The majority of our properties are two-bedroom units).
Located in the Hagel Circle community in Lorton, this unit is now the home of a family of six (mother, father, four children). HomeAID Northern Virginia, the nonprofit philanthropic arm of the local homebuilder's association, is interested in rehabbing the unit.  The construction captain even suggested a new kitchen for the unit.
We very much want the engagement from HomeAID.  The mother living there, too, likes the idea of a new kitchen; but she also appreciates what she has.  Working in food catering in Sterling, and facing some growing medical issues in the family, the mother said this to me: "Given what we came from, our housing unit is like a palace."
That is the truth: one's housing is a very relative thing.  Plenty are without housing.  I'm sure our housing does, in fact, look like the Taj Mahal to the many who never had a home before GSH.