Life for Financially Fragile Households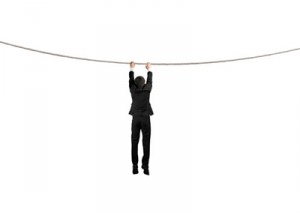 by David Levine, President & CEO
In a recent Atlantic article the author, Neal Gabler, revealed a secret shame:  like 47 percent of other Americans, he could not come up with $400 to pay an unexpected expense.  He'd have to sell something or borrow the money from friends and family.
By the number of online comments to his article, Gabler clearly is not alone.  One respondent noted that, with her student debt, car payments, rent and other necessities, she is living on the edge of financial stability or disaster.  Cumulatively, student debt is now larger than $1 trillion nationally and exceeds that of credit card debt.
Citing several academic studies, Gabler reported on the unprecedented loss of net worth and income in the last generation (even predating the Great Recession).  Median net worth for households nationwide has declined 38 percent in ten years, resulting in a $54,000 median net worth against $87,000 ten years earlier.
These are the households counted among the new "financially fragile."
What Gabler showed, and what was expressed in the comments to his article, is that the financially fragile households have fewer choices.  They have surprisingly few options for their education, their housing, work transportation, the location of their affordable housing, and even their employment.
Here at GSH we see them everyday.  They are applying for our affordable housing because we offer a rare opportunity for their housing in our service area of Route One.
More than that, Gabler pointed to how many financially fragile households are out there:  "So I never spoke about my financial travails… that is, until I came to the realization that what was happening to me was also happening to millions of other Americans, and not just the poorest among us, who, by definition, struggle to make ends meet."
Gabler painted a detailed picture in his article of the struggles of the financially fragile.  It shows the depth and breadth of this new economic reality.