Costs Coming from a Lack of Affordable Housing
by David Levine, President & CEO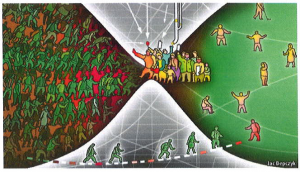 In a recent article in the April 16th edition of the Economist magazine, the author wrote about our great cities become the exclusive havens of the wealthy. Because of the unaffordable costs of housing in these cities, more households of modest incomes are pushed away from these cities.  They are driven to the far suburbs in search of reasonably priced housing.
That's unfortunate.  It's especially unfortunate given that cities are powerful drivers of economic growth. In turn, these low-income households are not accessing the places where they would benefit from this growth.  They have dispersed to places with affordable housing but fewer job and economic opportunities.  As the author notes in the article, quoting an academic study, this "dispersing effect" has left "American output 13.5% below the level it would otherwise have reached."
This "barrier to entry" is further complicated by NIMBYism ("Not in my backyard") opposition.  Through local planning rules and regulations, and their outsized voice in the local political process, NIMBYs can keep affordable housing from springing up in their neighborhoods.  The opposition truly has larger, long-term impacts in the way it limits economic growth.
This article points to the other costs from the lack of affordable housing.  Location matters for many reasons.